Head, Barry. Heckman, Andrea. Heick, William. Heider, Karl. Helfand, Judith. Hermann, Courtney. Higgins, Nick. Hill, Jacquetta. Himpele, Jeffrey. Hope, David. Horner, Christopher. Hoskins, Janet. Hoskins, Susan. House, Neeley. Howes, Arthur. Hu, Tai-Li. Huang, Ya-Hsuan. Husmann, Rolf. Huysecom, Eric. Ianzelo, Tony. Ikoyo, Frank Kaipai. Ikpeng, Natuyu. Isenberg, Adam. Ito, Nozomi. Jablonko, Allison. Jablonko, Marek. Jackson, Bruce.
Jackson, Lynne. Jacob, Selwyn. Jayasankar, K. Jell-Bahlsen, Sabine. Jhala, Jayasinhji. Jirmanus, Mary.
Bill Johnson: Keep the fire burning on the altar!
Johnson, Barbara. Johnson, Darlene. Johnson, Kirsten. Joshi, Amitabh Raj. Kailasam, Bala. Kamerling, Leonard. Kane, Richard. Kanna, Ines Hofmann. Karlekar, Abhijay. Karol, John. Karr, Doug. Katuquina, Fernando. Kaufman, Jim. Kaufman, Joan. Kiarostami, Bahman. Kibushi, Jean-Michel. Kidjo, Angelique. Kincaid, Chet. Kishore, Shweta. Kissel, Laura. Kleider, Alexander. Klima, Alan. Kluz, Nellie. Knapp, Lauren. Koenig, Robert. Kok, Ilja. Korom, Frank J. Kovgan, Alla. Krals, Bobbi Jo.
Kramer, Karen. Krishna, Lalita. Kruger, Dr. Kruger, Manfred. Kulina, Nelson. Kurzon, Nicholas. Kurzon, Nick. Laird, Charles. Lalonde, Valerie. Lancit, Matthew. Lange, Shara K. Lansing, J. Lanson, Dennis. Laufer, Paul. Lawrence, Andy. Leacock, Richard. Lears, Rachel.
Lebrun, David. Lee, Kijung. Lee, Sam. Lefkowitz, Melissa. Leizaola, Ricardo. Lemelson, Robert. Lemon, Aliana. Lescot, Anne. Leslie, Deepak. Lessac, Michael. Levari, Naomi. Levin, Ben.
Encyclopædia Iranica
Lewis, E. Ley, Christopher. Li, Jie. Lindquist, Johan. Lindsay, Calvin. Livingstone, Mischa. Livon-Grosman, Ernesto. Livov-Macklin, Andres. Llelewyn-Davies, Melissa. Lomax, Alan. Lomidze, Nona. Longobardi, Maurizio. Lourdou, Philippe. Low, Sam. Low, Sanford. Lu, Chih-lan. Ludin, Noberto. Luque, Aline. Lydall, Jean. Ma, Nicole. Maaker, Erik de.
Altar of Fire () | Documentary Educational Resources
MacDougall, David. Madsen, Berit. Magliocco, Sabina. Magloire, Laurence. Mahrer, Michelle. Majoros, Mike. Makley, Mary. Manchineri, Llullu. Mann, Charles K. Mann, Cory. Mann, Kenny. Mansur, Marcia. Marshall, John. Marshall, Lorna. Martin, Eric. Martinez, Wilton. Masayesva Jr. McCarty, Mark. McCollum, Monteith. McGuire, Mark Patrick. McIntosh, Ann. McLaren, Les. McNatt, Glenn. Mebrahtu, Filmon. Media Production Group. Medicine, Bea. Meeker, Lauren.
The Altar Fire
Meiselas, Susan. Mendel, Tommi. Mendelsohn, Janet. Merrison, Lindsey. Meyknecht, Steef. Michel, Daniela. Miesmer, Adrienne. Miller, Norman. Milstein, Pablo. Mintz, Jerome. Misra, Prithwiraj. Mitchell, Michael.
Moll, Yasmin. Monteiro, Anjali. Moore, Allen. Morgan, Susan. Moskow, Clifford. Mourao, Caterina. Mriga, Juma. Muhly Jr. Muller, Kal. Mullins, Catherine. Munger, Annie. Murray, Laura. Musello, Chris. Myers, Fred. Nairn, Charlie. Nauman, Charles. Negroponte, Michel. Nesson, Bob. Nielsson, Camilla. Niglas, Liivo. Nijland, Dirk. Nikles, Brigitte.
Norelli, Gianfranco. Norton, Barley. Noyes, Newbold. Nugent, Aoife. Ofner, Fritz. Oktan, Alexandre. Olin, Chuck. Olson, Randy. Olsson, Stephen. Omori, Yasuhiro.
Sermons about Altar Fire - vamocicywuzu.ml.
Marijuana 101;
On Christian Doctrine.
The Altar Fire () by A.C. Benson.
O'Neill, Peter. Ornek, Tolga. Orner, Eva. Osman, Wazmah. Ostraff, Joseph. Ostraff, Melinda. Oths, Kathryn. Otto, Ton. Owen, Chris. Ozier, David. Pacha, Farida. Palmar, David Hernandez. Palmer, Michael J. Pankhurst, Alula. Papa, Tony. Park, E. Patapoff, Elizabeth. Paul, Diana.
Paulay, Forrestine. Paulsson, Erik.
Every Service to God must be Based on the Fire from the Altar of Burnt Offering?
Holes in the World: A Collection of Short Stories.
Fire on the Altar - South Decatur Church.
Keep the fire on the Altar burning…?
Browse Our Collection.
Altar Fire.
Keep the fire on the Altar burning… – Soaking in God's Word!
Payrastre, Georges. Peck, Ann. Peeva, Adela. Perez, Pierre-Yves. Perkins, Robert. Perlo, Tsering. Petrovic, Ankica. Pianko, Benki. Piault, Colette. Pimsleur, Julia. Pinhanta, Isaac. Pinhanta, Valdete. Plath, David. Porter, Russell. Powell, Josephine. Powell, Lindsay W. Price, Jason. Princigalli, Giovanni. Prins, Frans. Prins, Harald. Protodi, Jorge. Puleston, Betty. Putnam, Tom. Qin, Wen-jie. Ragazzi, Rossella. Rankin, Tom. Ray, Sandeep. Razsa, Maple. Reichline, Neil. Reinhard, Kurt. Richardson, Boyce. Rinzler, Ralph. Rivas, Rebecca. Roberts, Churchill. Robertson, Shari. Rockefeller, Terry Kay.
Rocklin, Jeremy. Rodes, Jennifer. Rogers, Michael K. Rogers, Richard P. Rosas, Daniel. Rosin, R. Ross, Steven. Rostock, Susanne. Rothstein, Laurie. Rouch, Jean. Roussillon, Anna. Roy, Bann. Rutenbeck, James. Sabnani, Nina. Sacchi, Franco. Safiullin, Roman. Sahula, Jonathan. Saiyot, Jamlong.
Saltman, Carlyn. Sandall, Roger. Sanders, Talena. Sarkar, Aditi Nath. Sayers, Robert. Schmidt, Chris. Schmidt, Peter. Schreiber, Christoph. Schuller, Mark. Seftel, Joshua. Segar, Alison. Sevikova, Jana. Shapins, Jesse. Shea, Meghan. Sheldon, Elaine McMillion. Sherman, Rina. Sifers, Sarah. Silva, Jeff Daniel. Singer, Andre. Smith, Danielle. Smith, Hubert. Smith, Susan. Smith, William Tyler. Sonti, Gautam.
Sousa, Joe. Sparrow, Derrick. Staal, J. Stankevich, Andrey. Steinberg, Michelle Grace. Stiven, Annie. Stoney, George C. Strecker, Ivo. Strecker, Kaira. Strecker, Rosie. Streeten, Tish. Strong, Adrian. Strothmann, Randy. Stuart, Charles. Su, Yan Chun. Suhr, Christian.
Takahashi, Masami. Talukdar, Shashwati. Terry, John. Terry, Sara. Thomas, Selma. Thomas, Verena. Timmers, Willem. Timoner, Ondi. Timreck, T. Titon, Jeff.
Paperback Editions
Todorovic, Ivana. Tomaselli, Keyan. Touloumi, Olga. Towfighnia, Suree. Triandaphyllou-Marnelis, Anna. True, Lynn. Tsai, Frank. Tsitsishvili, Nino.
Your Answer
Urrusti, Juan Francisco. Vaccaro, Sofia. Vakhrushev, Alexsei. Vandervoort, Carl. Varzi, Roxanne. Velez, Pacho. Vennum, Thomas. Verhey, Joost. Verweyen, Guido. Veuve, Jacqueline. Viallon, Claudine. Vizoso, Gustavo. Voulkos, Ann. Waimiri, Iawusu. Waimiri, Kabaha. Walker, Nelson. Wallace, Melanie.
Wallworth, Lynette. Wanono, Nadine. Washburn, David. Watanabe, Satoshi. Waters, Katrina. Weber, Charles. Weetaluktuk, Jobie. Westmorland, Michele. Fire Upon Thine Altar Leviticus The fire shall ever be burning upon the altar; it shall never go out. The bible tells us that The fire on the altar of our hearts must be kept burning for the Lord. Keep the Fire Burning! Thesis: The fire on the altar of our hearts must be kept burning for the Lord. Text: Lev. Scripture: Leviticus , 1 Chronicles The people of Israel are standing between two altars during the time of Elijah.
We are also facing the same choices today. Different forms but the same spirit. Like the Jews, are you still stuck in the middle? This sermon discusses three threats to our personal devotional life. Denomination: Baptist. Moving into a new ministry also has it's challenges and so I can identify with Abram as God brought A message to compel to seek for, and how we can have Revival in our lives and churches.
Look what Strongs concordance says about fire. Fire, flames, supernatural fire, fire for Scripture: Isaiah Scripture: John In Romans 12, Paul instructs us as believers on what type of worship is pleasing to the Living God. Noah was a man of God in the corrupt days and world in which he lived. He fearfully obeyed God Scripture: Romans We need prayer and anointing to accomplish the work we have been given to do.
Scripture: Jude The Lord loves it when His children are on their knees in prayer. God is not jealous as we so often are - his jealousy is a reflection of his love. We know that God is love because he has demonstrated it through the cross. We know that God Scripture: Nahum Filter Results.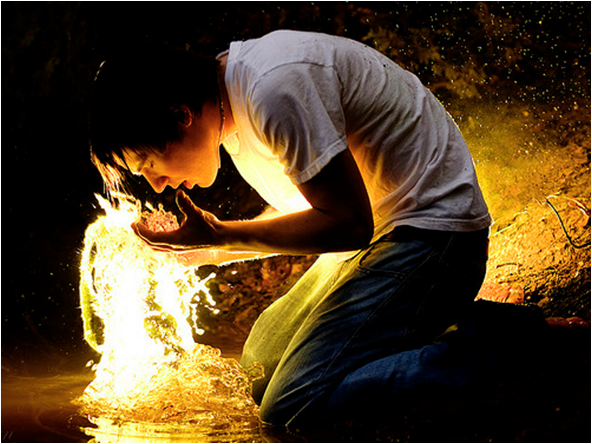 The Altar Fire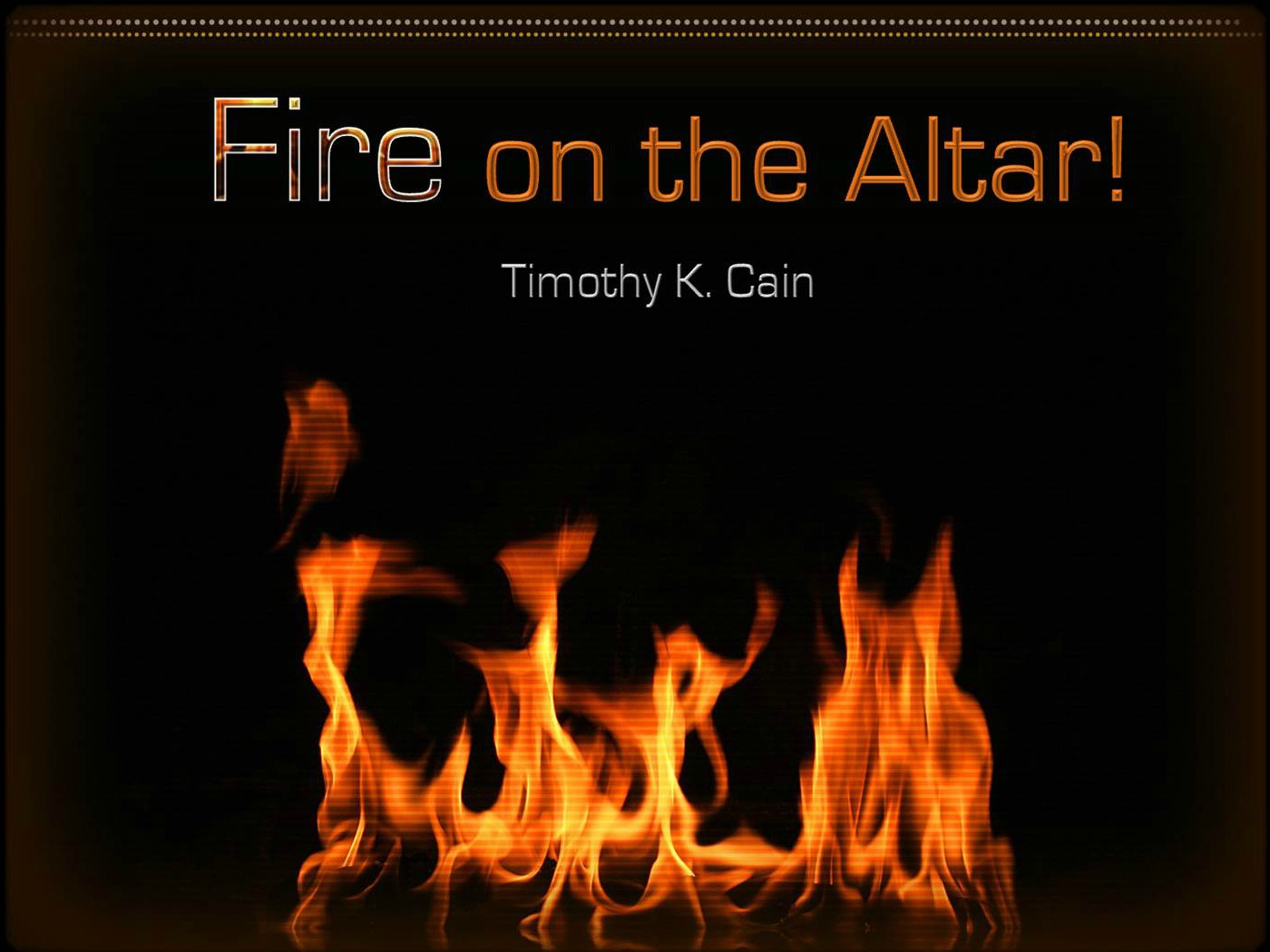 The Altar Fire
The Altar Fire
The Altar Fire
The Altar Fire
The Altar Fire
The Altar Fire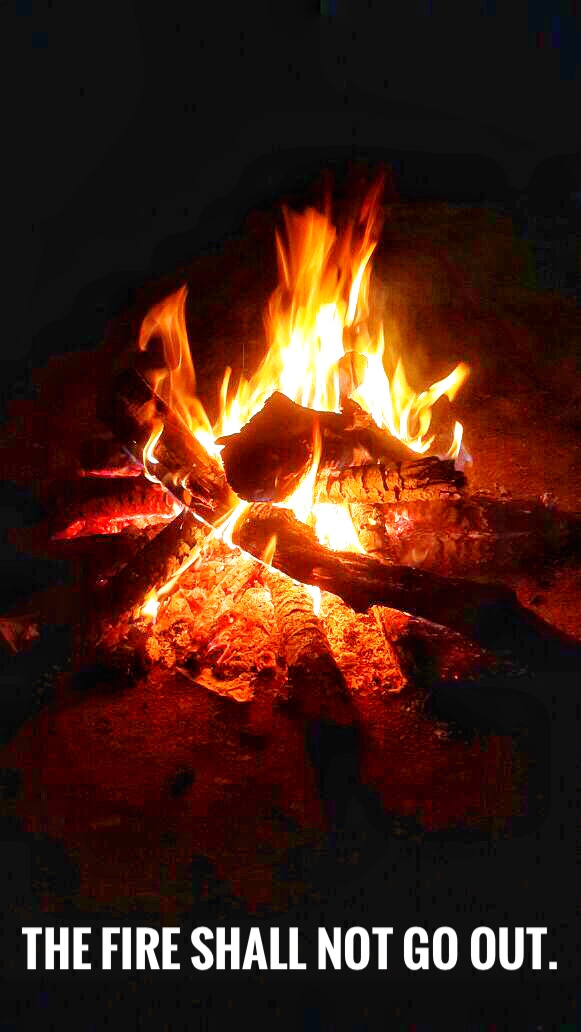 The Altar Fire
---
Copyright 2019 - All Right Reserved
---